Visit the monuments to la francophonie
---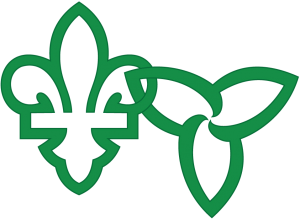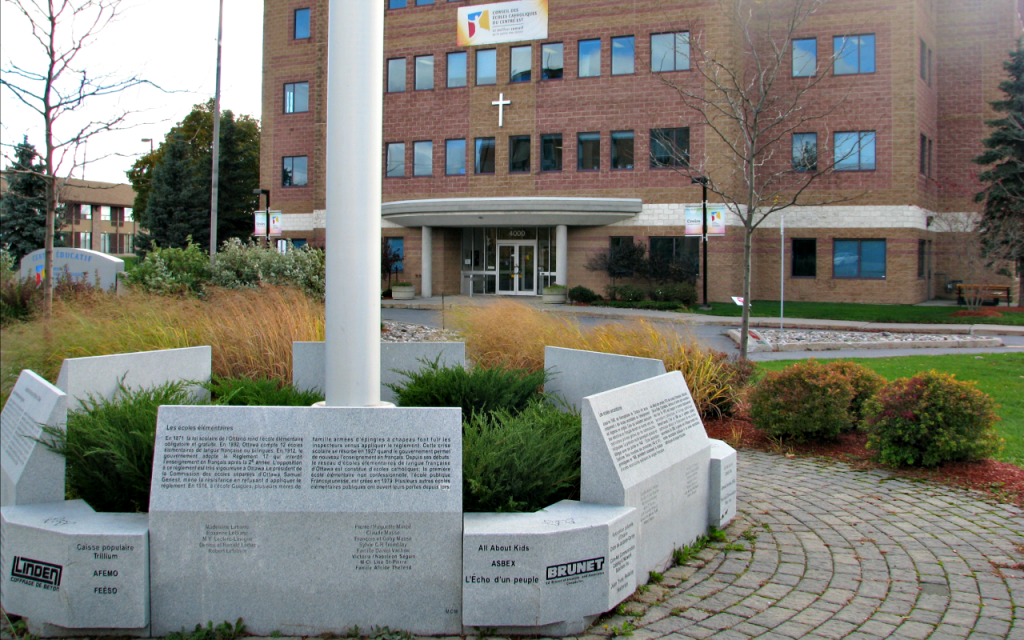 Centre éducatif du Conseil des écoles catholiques de langue française du Centre-Est (CECECLF)
Monument location:
Conseil des écoles catholiques du Centre-Est (CECCE)
4000 Labelle Street
Ottawa, Ontario K1J 1A1
Unveiled: September 25, 2006
Bernard Grandmaître, Honorary President of Monuments de la francophonie d'Ottawa
Lise Cloutier, President of the Conseil des écoles catholiques de langue française du Centre – Est
This project was carried out by District 1 of Richelieu International.
The Richelieu Society was founded in Ottawa in 1944. It was renamed the Richelieu International in 1955 and incorporated 275 service clubs in seven districts and in a dozen francophone countries. The Society promotes la Francophonie and francophone culture through sociocultural and humanitarian efforts and youth involvement. District 1 has 20 clubs that cover Ottawa, Outaouais and eastern Ontario.
The Conseil des écoles catholiques de langue française du Centre-Est de l'Ontario, now called the Conseil des écoles catholiques du Centre-Est (CECCE), was created January 1, 1998. The CECCE is the largest network of French-language schools in Canada outside of Quebec. It has 20 000 students, 41 elementary schools, 10 secondary schools and a school for adults.
The Franco-Ontarian Flag
The Franco-Ontarian flag was created in 1975. It consists of two sections; the left section features a white fleur-de-lys (representing la Francophonie) on a green background, and the right section features a green trillium flower (representing Ontario) on a white background. The flag was recognized as an official symbol of Ontario by the Ontario Government in 2001.
Education in French
Ottawa's francophone schools were historically incorporated within bilingual school boards. This situation finally changed in 1988, when the Conseil scolaire de langue française d'Ottawa-Carleton was created (which represented both Catholic and public schools) and francophones were allowed to govern their own schools autonomously. This measure was adopted province-wide in 1997. There are currently 12 French-language school boards — 8 Catholic school boards and 4 public school boards.
Post-secondary education
Post-secondary programs in French have been available at the University of Ottawa since 1988, at the Dominican University College since 1900, and from Saint-Paul University since 1965. French-language programs in applied arts and technologies were available at Algonquin College from 1967 until 1990. La Cité collégiale, the first French-language community college in Ontario, opened its doors in 1990.
French-language education in Ottawa
The role of religious communities
French-language education in Ottawa can be traced back to the 1840s, when the Soeurs de la Charité opened a bilingual school for girls in 1845. Bishop J. E. Guigues, the first bishop of Ottawa (Bytown), founded the Collège Saint-Joseph in 1848. Several religious communities opened schools during the second half of the eighteenth century, including the Frères des écoles chrétiennes, who opened a school in 1864 that was known as the École Guigues after 1889. In 1869, the Soeurs de la Charité opened the Pensionnat Notre-Dame-de-Sacré-Coeur, which was often called the "Rideau Street Convent". In 1891, the Filles de la Sagesse founded the Pensionnat Notre-Dame-de-Lourdes, and in 1900, the Frères des écoles chrétiennes founded the Académie De-La-Salle. The Oblats de Marie-Immaculée taught secondary classes at the Juniorat du Sacré-Coeur and at the secondary school at the University of Ottawa. Secular priests ran the Petit Séminaire d'Ottawa.
Elementary schools
In 1871, Ontario law made elementary education mandatory and free. In 1892, Ottawa had 12 French-language or bilingual elementary schools. In 1912, the government adopted Regulation 17, which banned French-language instruction after the second grade. Opposition to this regulation was very strong in Ottawa. The Chairman of the Catholic schools of the city of Ottawa, Samuel Genest, led the resistance by refusing to adhere to Regulation 17. In 1916, inspectors paid a visit to the École Guigues to enforce Regulation 17, but they were physically denied entry into the school by a group of mothers armed with hat pins. This school system crisis came to an end in 1927 when the government once again allowed French-language instruction in schools. At first, Ottawa's network of French-language elementary schools consisted of Catholic schools only. The first public elementary school to be incorporated was the École élémentaire publique Francojeunesse in 1979. Several other public elementary schools have since been incorporated.
Secondary schools
Until 1949, there were no secondary schools that offered French-language education. Anyone who wished to pursue their education in French had to attend private institutions run by religious communities. The first free bilingual secondary school, Eastview Secondary School, opened in 1949. The provincial government finally allowed the creation of French-language public secondary schools in 1968.
Several French-language schools were opened in the early 1970s. The first Catholic French-language secondary school, the Collège catholique Samuel-Genest, opened in 1979. In 1984, the Catholic school system received funding for its secondary schools. By 2006, the City of Ottawa had 5 public French-language secondary schools and 6 private Catholic French-language secondary schools.