Visit the monuments to la francophonie
---
---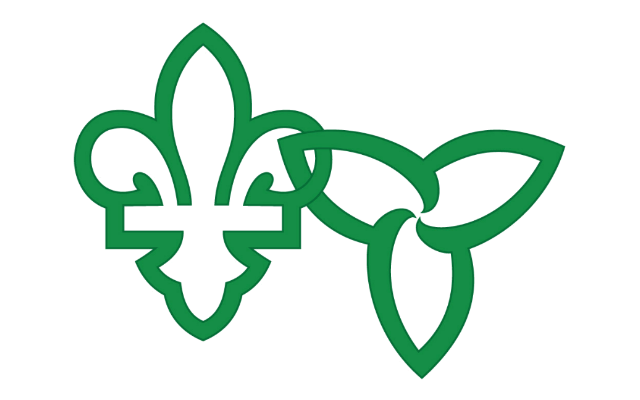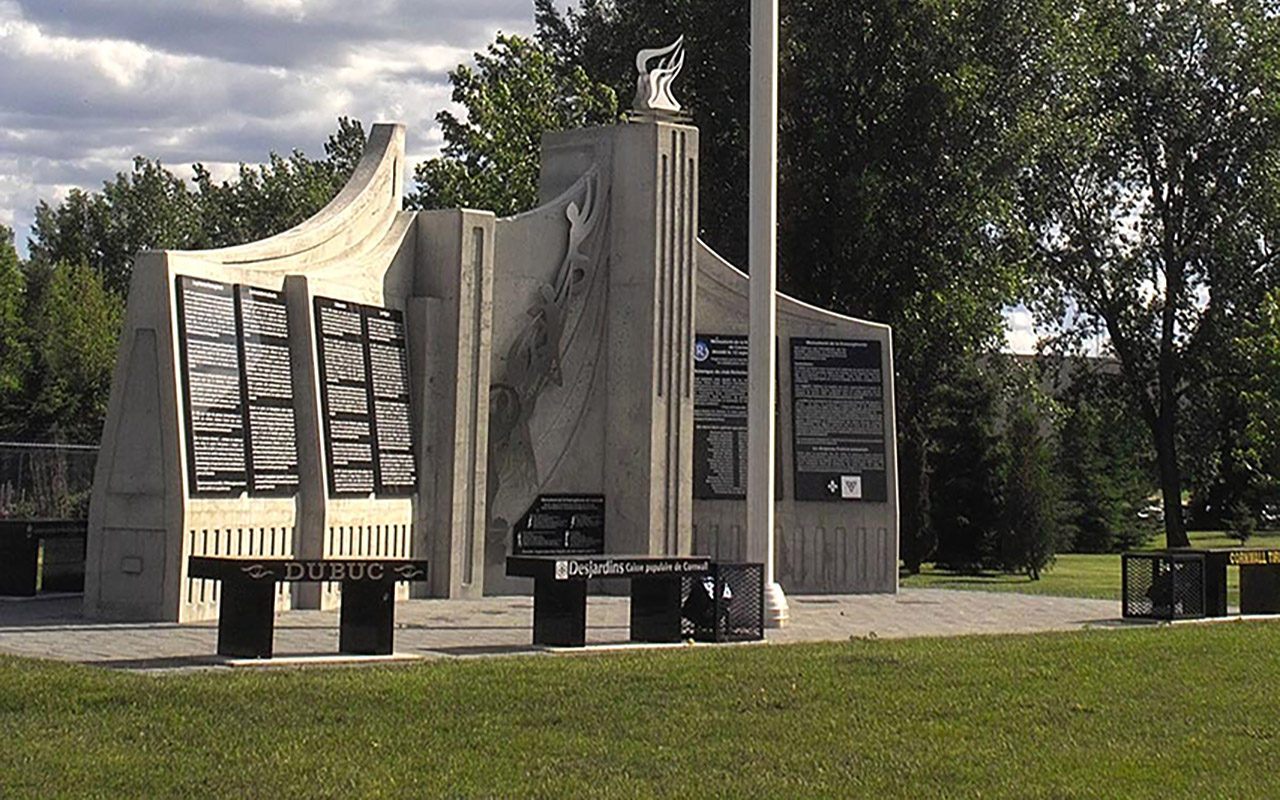 Cornwall - Lamoureux Park
Monument location:
Lamoureux Park
100 Water Street E
Cornwall, Ontario K6H 6G4
Unveiled: September 12, 2010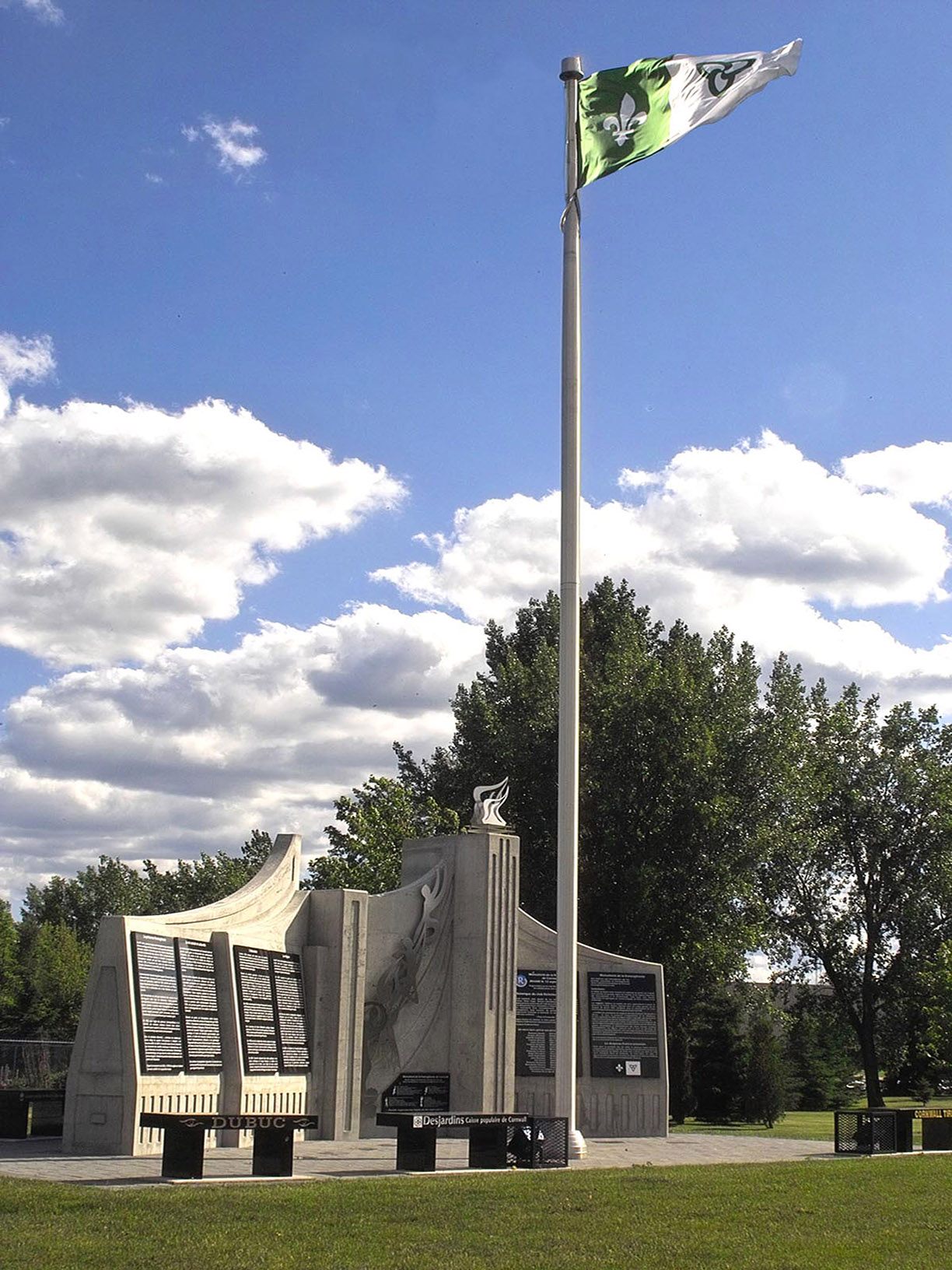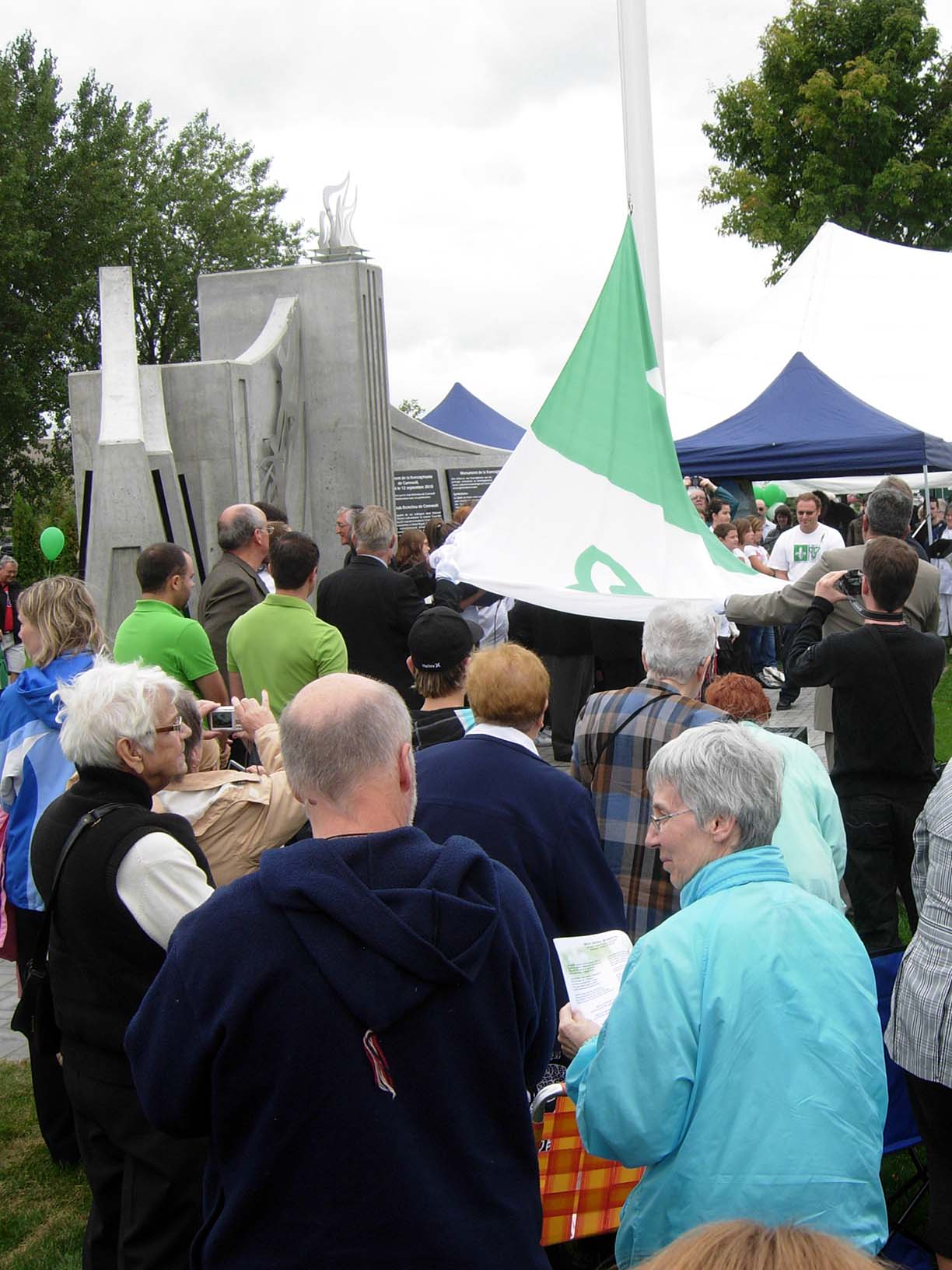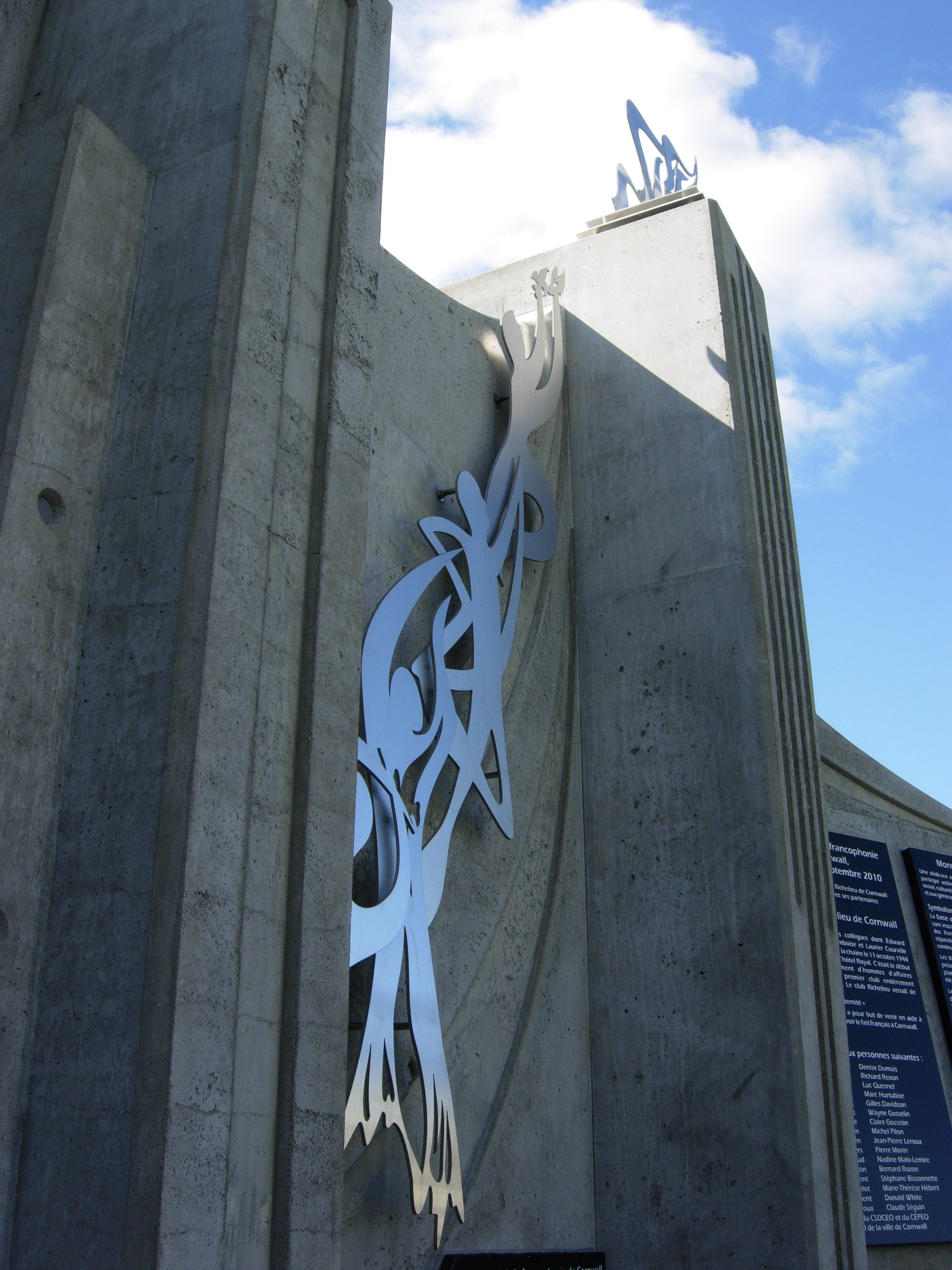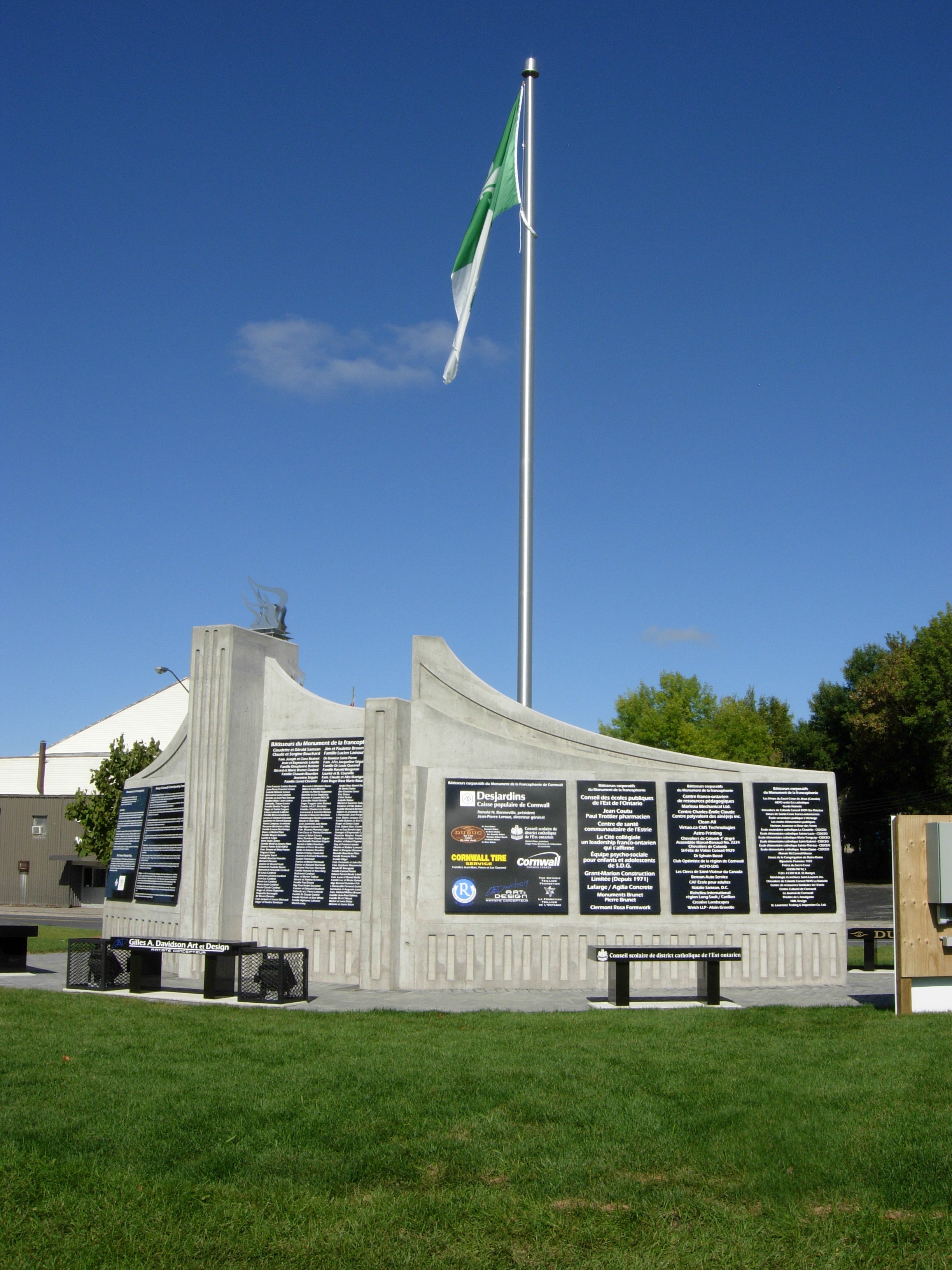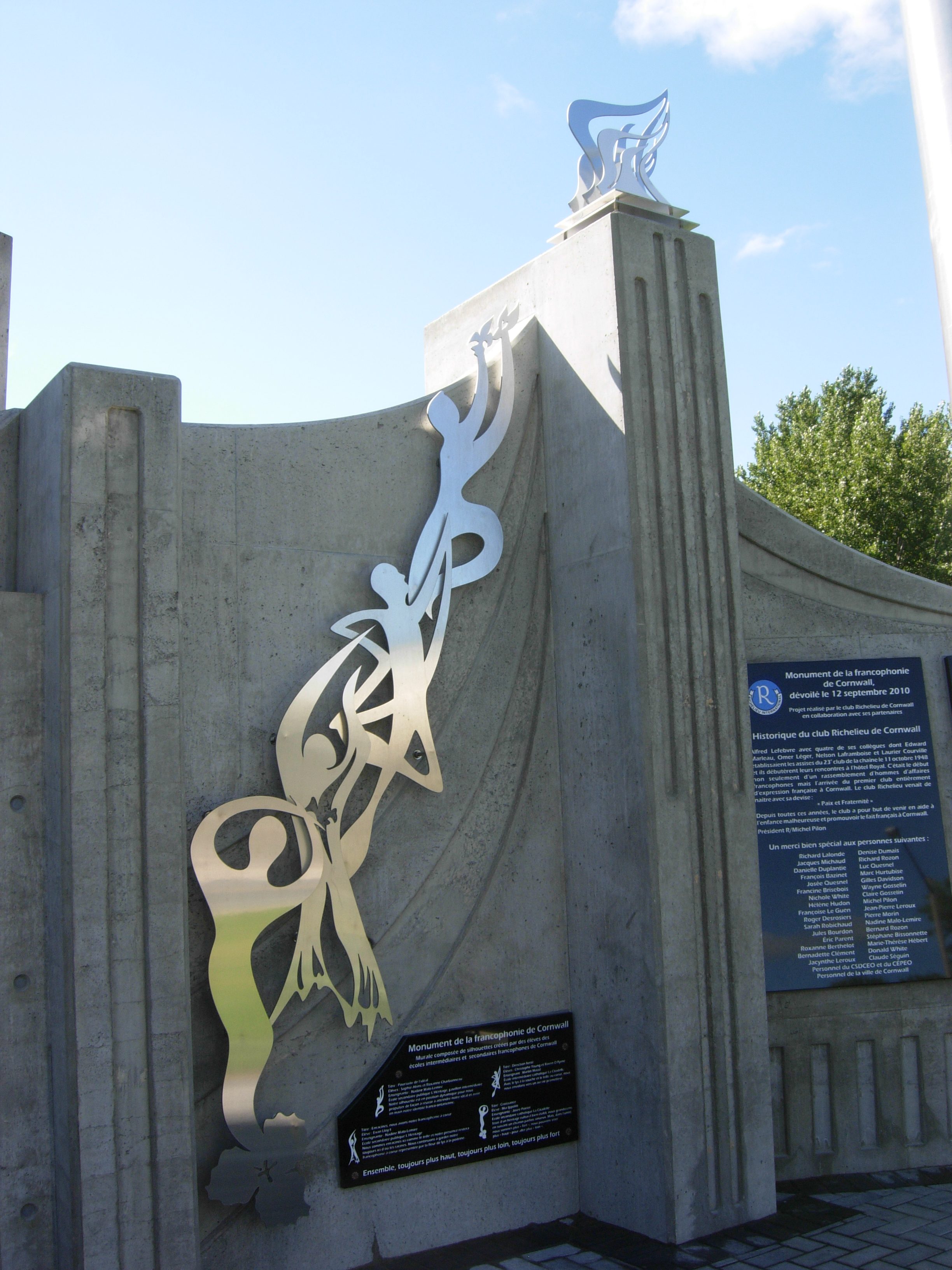 Cornwall's monument to la francophonie
---
This monument is dedicated to the francophones who were involved in the social, cultural and economic development of their community in Cornwall. The monument is also a testament to future generations.
It commemorates the people who built Cornwall and made it a good place to live.
It celebrates the blue-collar and white-collar professionals, entrepreneurs, stay-at-home parents, clergy, religious communities and elderly people who share a language, culture and common history. It celebrates today's young people and the leaders of tomorrow.
Symbolism
The base is made from reinforced concrete. It supports the granite slabs that give an overview of the history and important contributions of francophones in Cornwall. The base is a symbol of teamwork, strength, support and continuity.
Cornwall's monument to la Francophonie is me, it's all of us.
---
I have a story to tell. It's a typical story from East Cornwall, but it's from the heart.
Last week, I decided to spend an afternoon traveling back in time. My goal was to retrace my parents steps to Cornwall.
Before beginning my journey, I sat down on a bench in front of the monument to la Francophonie in Cornwall for the first time and read all the texts from start to finish.
The first plaque talks about the "waves of francophones who came from farms and villages in eastern Ontario and Quebec". These French-Canadian families all uprooted, left their homes and came to Cornwall for work.
"In the 1870s, cotton and wool factories were established (Dundas, Stormont and Canada Cotton Mills), followed by the pulp and paper industry (Toronto Paper Co., Howard Smith, Domtar Fine Papers)." In my mind, I can see my grandparents leaving Rimouski to settle in Cornwall. My grandfather William, my mother Thérèse, my father Oscar and several aunts and uncles on both sides of my family worked by the sweat of their brow in the cotton industry, and it played a big role in their lives. My father first drew my mother's attention by leaving boxes of chocolates in her scraps basket in the weave room. My mother, barely 19 at the time, was responsible for gathering loose strands that the weavers left behind, which she would put in her basket. And one day, there was a box of chocolates in her basket! I wonder how many times my father had to buy chocolate and put in her basket before she noticed.
My grandfather Alex married my grandmother Aldéa Vachon in Glen Robertson. He wandered around Alexandria, Glen Robertson, Lochiel, Glen Nevis, VanKleek Hill and Hawkesbury before ending up in Cornwall, where he got a job at the Howard Smith Paper Mill.
"In the 1950s, different organizations and social clubs were created, affirmed their identity, responded to the needs of the population, and founded the Conseil de vie française in 1961. The Conseil organized the Semaine française for many years." As I read those words, I could see the white clouds behind me reflected in the black granite plaque. For a second, I thought I saw my white-haired mother wearing her satin scarf that said "1977 French-Canadian Mom of the Year". We were all so proud of that scarf!
The next plaque says "The first francophone church in Cornwall, the paroisse de la Nativité de la Bienheureuse Vierge Marie, opened its doors in 1887". Ever since then, the Gothic-style church's bell tower has dominated the skyline in eastern Cornwall. That was where my mother was baptised, took her first communion and became an Enfant de Marie. Her faith was always strong, and with time she became completely selfless. She even managed to pass on her Catholic French-Canadian values to her children. Thanks to a box of chocolates, my parents were married in that church at the age of 20. A year later, I was baptised in its sacristy.
My parents are gone now, but their names (and my and my siblings names) live on through the monument's plaque of donors. Seeing their names almost moves me to tears.
I get up and turn towards the centre of the monument. From here, I can see the beautiful artwork created by the middle and secondary students.
It's mid-afternoon. The sun shines on the dancing stainless steel figures, which reflect back gold and silver light. The light fills me with hope… The hope that, one day, young francophones will take over the job of remembering and commemorating past generations. The sharp silhouettes are a tribute to the tenacity of Franco-Ontarians. Just like the steel used to build the monument, our culture will never crumble or disappear.
Just under the figures is a granite plaque with the names of the artists, an explanation of the figures and a description of how they were made. The creativity and talent of these young people proves that the future is bright for Franco-Ontarians.
Quotes from the artists include "Our strong cultural heritage guides us along the right path" (Mia), "Just like the trillium flower, we have roots in Ontario and our legacy will live on" (Evan), "We're being carried into the future by sails made of lys and trillium flowers" (Raven and Christophe), "In order to reach our goals without losing sight of our Franco-Ontarian identity" (Sophie and Roxanne).
At the bottom of the plaque is the motto; "Together, we can aim further, go higher and be stronger". It was inspired by Pierre de Coubertin's motto for the modern Olympic Games and it encourages personal discipline, teamwork and engagement. It invites all francophones and francophiles to be the best versions of themselves and aim for new heights.
In front of the monument is a series of plaques with names such as Jeannine Séguin, Gérald G. Samson, Hughette Burroughs, Reverend Charles-Émile Claude, Tina Charlebois, Gaëtan Simard and François Bazinet, which make the monument come to life. These immortalized community and cultural leaders have cleared the path for future generations.
Before I leave, I read the list of donors. It fills me with joy to see the names of my grandsons Émile and Antoine on the plaque.
This place is a crossroads of the past, the present and the future. I continue walking in silence, absorbed in my thoughts about yesterday and today, and confident that the future is bright.
The organizing committee for Cornwall's monument to la Francophonie is grateful to the sponsors and donors who provided financial aid for this project.
---
---
---