Visit the monuments to la francophonie
---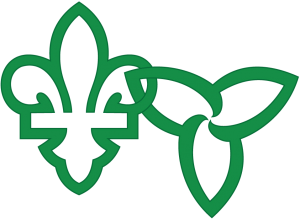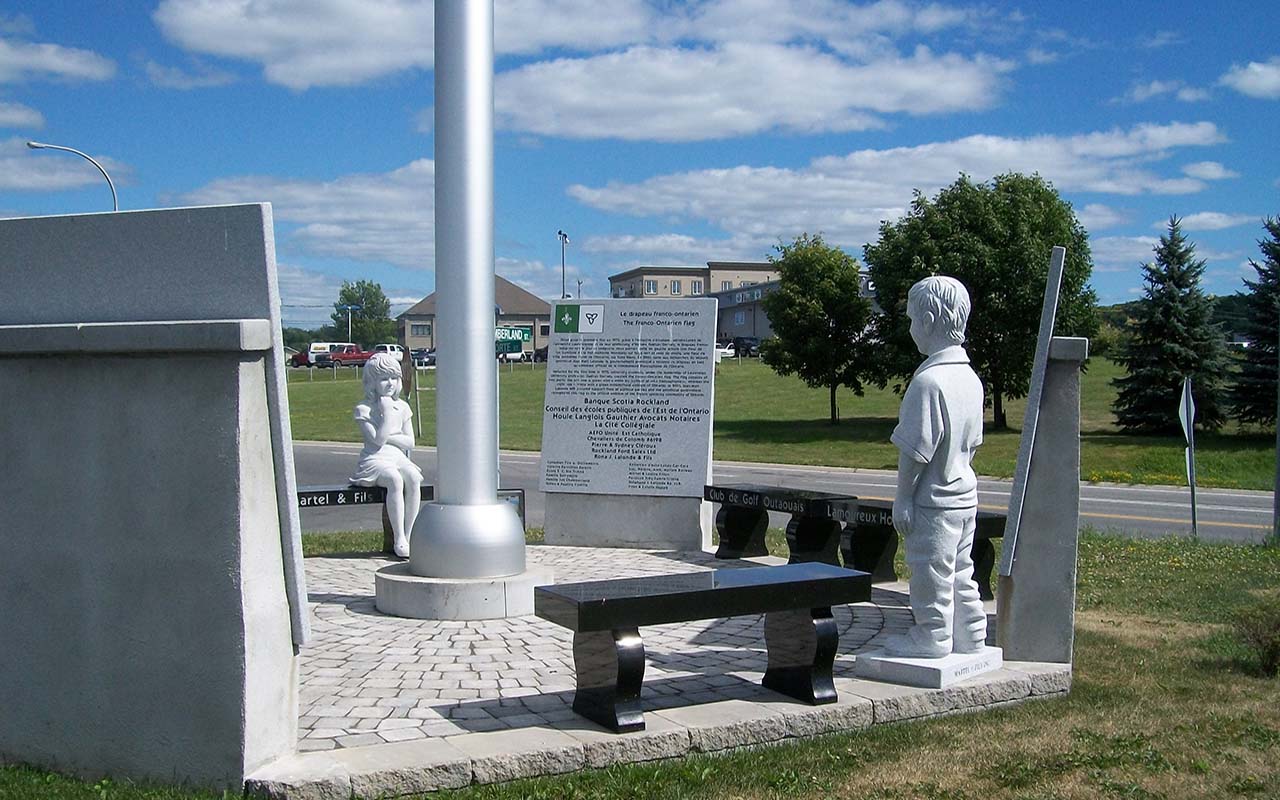 City of Clarence-Rockland
Monument location:
Intersection 17 at the western entrance to Clarence-Rockland
Unveiled : September 25, 2008
Bernard Grandmaître, Honorary President of Monuments de la francophonie d'Ottawa
Richard Lalonde, Mayor of the City of Clarence-Rockland
This project was carried out by District 1 of Richelieu International.
The Richelieu Society was founded in Ottawa in 1944. It was renamed the Richelieu International in 1955 and incorporated 275 service clubs in seven districts and in a dozen francophone countries. The Society promotes la Francophonie and francophone culture through sociocultural and humanitarian efforts and youth involvement. District 1 has 20 clubs that cover Ottawa, Outaouais and eastern Ontario.
The Franco-Ontarian flag
The Franco-Ontarian flag was created in 1975. It consists of two sections; the left section features a white fleur-de-lys (representing la Francophonie) on a green background, and the right section features a green trillium flower (representing Ontario) on a white background. The flag was recognized as an official symbol of Ontario by the Ontario Government in 2001.
The City of Clarence-Rockland
«140 years and counting!»
William Cameron Edward founded a sawmill business in Rockland in 1868 and by the turn of the century, Rockland had one of the most important sawmill industry sites in Canada. Starting in the 1930s, forestry was replaced by agriculture and public service jobs in Ottawa. Clarence-Rockland became a city on January 1, 1998. The city's population rose from 150 people in 1868 to 23 000 people in 2008. Its residential, commercial and industrial development is some of the most important in all of Ontario. Clarence-Rockland is known for being an officially bilingual city, having an excellent public transit system and for its recently completed recreational and cultural complex.
FRENCH-LANGUAGE EDUCATION IN PRESCOTT-RUSSELL, STORMONT, DUNDAS AND GLENGARRY
The francophone community in Cornwall began asking for an autonomous French-language school in 1968. After five years without any progress, students went on strike in 1973 and adopted the slogan "Nous la voulons, nous l'aurons" [We want it, we'll get it]. The government under Premier Bill Davis set up a Commision of Inquiry, and the Commision later published a report in favor of the francophone community and its request. On June 12, 1973, the École Saint-Laurent de langue française became La Citadelle, an autonomous French-language school.
In 1981, the Conseil des écoles catholiques de Prescott-Russell (CECPR) began lobbying the Ontario Government for a catholic school board for French-language education from kindergarten to 13th grade. After 10 years and with the complete support of the community, the Ministry of Education finally announced the creation of the Conseil des écoles séparées catholiques de langue française de Prescott-Russell (CESCLFPR) in July 1991. This new school board came into effect on January 1, 1992.